The Seiberlings' legacy continues through the thousands of volunteers, members, and donors who ensure that Stan Hywet remains an important, national, historic, landmark museum that will continue to enrich lives.
Seiberling Society
The Seiberling Society is a group of individuals who have remembered Stan Hywet Hall & Gardens in their wills or estate plans. Through thoughtful planning, each member has arranged a gift commitment that will help to ensure that future generations can benefit from Stan Hywet in the same way as they have during their lifetime. To learn more, contact Jennie Highfield, President & Executive Director.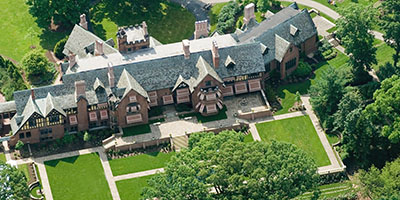 The Landmark Society
We recognize those individuals, corporations, and foundations, who through their philanthropic support and personal leadership, share a commitment to the continuing excellence of Stan Hywet Hall & Gardens with cumulative lifetime gifts of $25,000 and over.
$1 million+                       West Terrace Circle
$500,000  - $1 million     Rose Garden Circle
$250,000 - $499,999        Great Garden Circle
$100,000 - $249,999        English Garden Circle
$50,000 - $99,999            Japanese Garden Circle
$25,000 - $49,999            Perennial Garden Circle
Why We Give

Please contact the Development Department for further information about making a tax deductible major gift or to learn more about planned giving opportunities in The Seiberling Society:
Jennie Highfield
President & Executive Director
330.315.3211
jhighfield@stanhywet.org