The Seiberling Society is a distinguished group of individuals who have remembered Stan Hywet Hall & Gardens in their wills or estate plans and have allowed us to recognize their commitment as a way of encouraging others to consider their own planned gift.  Through thoughtful planning, each member has arranged a gift commitment that will help to ensure that future generations can benefit from Stan Hywet in the same way as they have during their lifetime.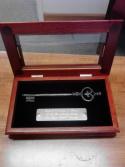 Stan Hywet honors new members of the Seiberling Society each year at the annual Great Hall Assembly, a special gathering of donors and volunteers with a special preview of Deck the Hall, Stan Hywet's premier holiday program.  New members are presented with a true pewter reproduction of an original Manor House Room Key displayed in an engraved box as a remembrance of their generous support.  In addition, members are permanently listed on an engraved plaque located in the Donor Garden adjacent to the Carriage House.
Why We Give

Please contact Stan Hywet for further information about planned giving opportunities or membership in The Seiberling Society.
Jennie Highfield
President & Executive Director
330.315.3211
jhighfield@stanhywet.org