Stan Hywet's dedicated volunteers are a key component in the succesful operations and preservation efforts at the estate.
The organization began in 1957 with a few dedicated civic leaders and now boasts more than 600 volunteers that help keep Stan Hywet operating and thriving. Our volunteers come from many diverse backgrounds and interests and contribute on average, 50,000 hours of service annually.
Volunteers fill a variety of positions throughout the property: administration, gardening, museum interpretation, curatorial services, wedding assistance, education content and facilitation, retail services and special event support. Adults and youth may choose from full-time, part-time, or special events-only volunteer experiences that are most convenient for their schedules. Additionally, Stan Hywet offers opportunities for corporate or school groups to volunteer, whether for a few hours during a special event or over multiple days/weeks for long-term projects.
---
Why I Volunteer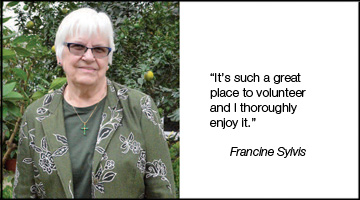 ---
Benefits
Expanding your interest in the arts, history and gardening
10% discount in the gift shop and café
Recognition during National Volunteer Week
Invitations to our annual volunteer award ceremony and appreciation events
And much more
In addition to these volunteer experiences, you can also choose to join a committee, a volunteer group and/or an affiliate group, each one providing its own unique leadership, history, interests, and engagement at Stan Hywet.
Learn more about our volunteer programs by calling the volunteer office at 330-315-3224 or emailing volunteer@stanhywet.org.